One of San Francisco's top Live Music Bars
Royale is the venue for serious music lovers who don't take themselves too seriously. Our dream is to provide a comfortable, affordable, and friendly space where everyone is welcome to enjoy top quality drinks and music.
Located at 800 Post Street, Royale is in the heart of San Francisco's historic Nob Hill neighborhood. We opened in 2012 and have become a neighborhood institution for San Francisco locals. We are a musician-owned and managed venue, with a passion for great live entertainment. Royale has come to be known as one of the best bars in San Francisco for classic cocktails, rotating local and craft beers on tap, and a lively afternoon happy hour. Join us to see some of the hottest jazz bands and the most underrated, untapped local talent San Francisco has to offer.
A Classic Cocktail Bar
We serve as both a bar and small live music venue, featuring a classic décor honoring our one of a kind historic building's past. Our talented team specializes in prohibition-style classic cocktails, but can serve up anything upon request. We feature 12 constantly rotating draft beers on tap. You will find a mix of both popular and up-and-coming microbrews, as well as other unique craft beers from around the globe. Our bar features an extensive selection of both American and Scottish whiskeys as well as an extensive collection of tequila and mezcals for our fellow connoisseurs. We offer all of our drinks at a fair, competitive price point.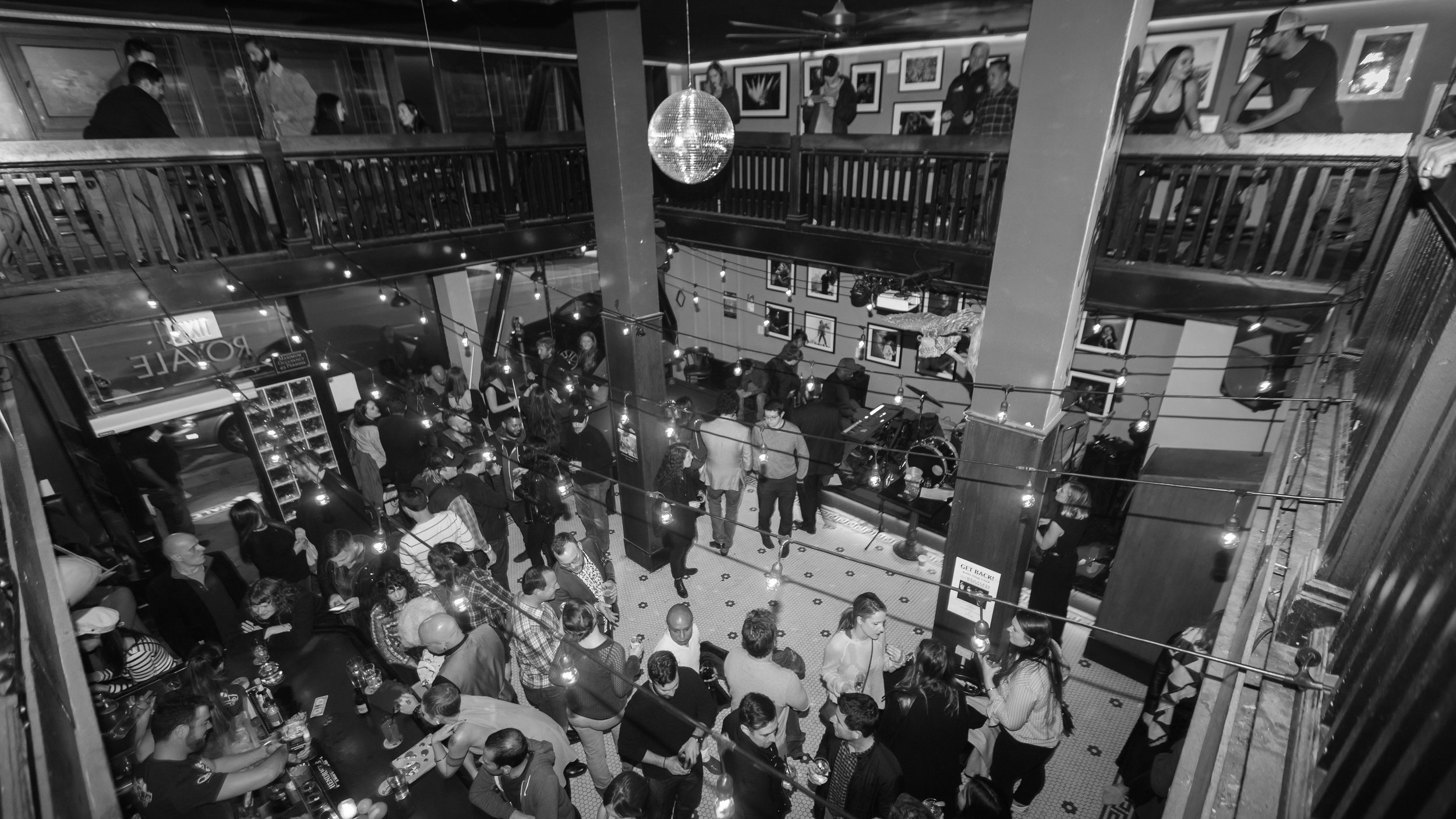 Rent out Royale for your next private party or event. We are a locally-owned and operated business with strong ties to our community. Our team has hosted every imaginable type of event (both private and public) at our venue and will work with you to ensure an unforgettable evening. We host every imaginable type of corporate events, wedding receptions, birthday parties, private events, group happy hours, and so much more. Here are just a few reasons you will love hosting your next event with us:
Catering
We partner with local kitchens and gladly recommend delicious catering options, or bring your own favorite catering in, it's rare to find such flexibility.
Entertainment- Live Music, Art & A Pool Table
While your guests enjoy a live band they can mingle and dance under a disco ball in a space that features a rotating monthly art show, exhibiting original work by local artists. We also have a beautiful vintage pool table for guests to use.
Our space embodies the voice of the creative spirit of our unique patrons. It will provide a wonderfully unique setting for your upcoming event. Email will@theroyalesf.com for a personalized quote and to begin a conversation on the details of your unique party. We look forward to helping you make it an unforgettable evening!
As a bar and beverage catering company, Royale brings our bar to the location of your special event. We promise to do everything we can to enhance the experience of every guest, customer, client, vendor and partner that we serve. Work with us to add value and an amazing full-service bar catering experience to your next event.
Give us a call at 415-441-4099, send us an email at will@theroyalesf.com or click below to request a free quote.
Royale has been delivering the best in live and independent music and jazz since 2012. Since opening our doors, we have been a hub for both local and nationally touring talent, contributing our own small piece to furthering the rich tradition of live music in downtown San Francisco.

Royale is nestled in between the historic Nob Hill and Tenderloin neighborhoods- now fondly referred to as the TenderNob. We have seen some remarkable changes as the neighborhood and city has transformed around us over the years. We are located in a one-of-a kind building, well over 100 years old and protected by the National Historical Society. Our space is a unique relic of historic San Francisco, complete with wrap-around mezzanine and original mosaic tile floor from 1916.

At the time that the building was constructed, the neighborhood was a hub of nightlife, notorious for its gambling, billiard halls, boxing gyms, speakeasies, theaters and restaurants. The neighborhood fell on harder times, widely deserted by the mid-1960s as populations moved away from city centers. However, the 1980's saw the neighborhood undergo its own renaissance, the area once again emerging as a nighttime hot-spot, offering a number of popular theaters, bars, restaurants, and art spaces that cater to a diverse blend of San Francisco's culture-hungry population.

Royale has also navigated the transitions of an ever-changing local music scene and industry. Throughout the years, we have remained committed to our community-oriented atmosphere and our established identity as an alternative and independent music venue and bar.
Royale owners Jon Vargas, Will Weston, and James Moran bring extensive experience and passion for both the service and music industries, as well and the art of mixology to their establishment. Will is a gigging musician, and an aspiring travel writer in addition to managing and booking events at Royale. Jon is an accomplished world traveler and works a circuit of music festivals year round when not running the show at his own establishment. Jimi is a veteran drinksmith, enthusiastic about all things booze related, and handles all stocking and orders behind the bar. When not manning the ship at Royale, all three prefer to be drinking cheap beer under palm trees. Together, their backgrounds form the foundation of a longstanding partnership.

The collective dream of the business owners has been to create a comfortable, inclusive space where lovers of music can enjoy classic cocktails and interact with other locals of their community. The team is excited to bring a small, intimately sized listening room to San Francisco music aficionados. Jon, Will and Jimi's mutual love for music inspired the formation of Royale. They have taken great care to create an inviting space — and spread the simple joy of listening to and talking about music over cocktails.

In the end, Royale's greatest asset is its people. It starts with the passion of the owners, is carried out through its great staff, and ultimately our clientele. Royale's value can be measured in the memories it creates- here's to your next memorable experience!
The Royale's Press Coverage
"The walls are covered with the work of local photographers and painters, and the jazz bands always draw an eclectic and friendly crowd. The crowd is young and friendly, and the bartenders are knowledgeable. If you want good beer, versatile bartenders and a look at an up-and-coming San Francisco hotspot, head to The Royale."
"This bar's free live music calendar is one of the best in town. Priding itself on existing at the opposite side of the spectrum from the highbrow, "aristocratic" cocktail bar status quo, The Royale is fun, casual, and the true definition of a neighborhood gem. With a rotating local beers list and one of the most eclectically booked concert calendar in the city, this venue is primed to become the go-to destination for catching free jams in San Francisco."